Kathryn Lee Bentley Conner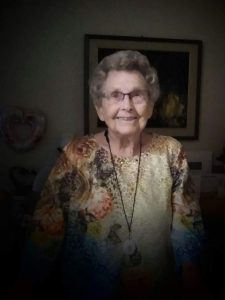 Kathryn Lee Bentley Conner (Kitty) passed away on Wednesday November 30th, 2022 in Webster, Texas at the age of 97. Kathryn was born on May 11, 1925 in Washington D.C. to John D. Bentley and Agnes St. Clair.
Kathryn loved to travel to visit family and friends however; in recent years she passed her time with bible study, bingo, movies and popcorn. She worked for many years in the D.C. area and lived in Maryland, Virginia, and Texas. Kathryn made friends easily and was loved by so many.
Kathryn was preceded in death by her loving husband Clarence G. Conner, her parents John D. Bentley and Agnes St. Clair, her sisters Jackie Long and Barbara Lacey, and her brothers James Penn and William Penn. She is survived by her sisters – Doris Pilkerton, Helen Rotzinger, Maryann Farrell, and Agnes Hall; her sister-in-laws – Brenda Conner and Theresa Conner; her children – Donald Conner (wife Debra), John Conner (wife Janet), Paul Conner (wife Mariana), and Margaret Guardia (husband Michael Guardia); her grandchildren – David Conner, Leigh Morris, Michael Guardia, James Conner, Daniel Conner, Emily Conner, Mary Conner, and Jonathan Mosely, as well as 5 great grandchildren and 2 great-great grandchildren.
A ceremony will be held on Friday, December 30, 2022 at 12:30pm at Fort Lincoln Funeral Home and Cemetery, 3401 Bladensburg Road, Brentwood, Maryland 20722, (301) 864-5090. Interment will follow the ceremony at Ft. Lincoln Cemetery at 1:30pm.
A memorial service will be held at St. Paul's Anglican Church, 11456 Space Center Boulevard , Houston, Texas 77059. In lieu of flowers, donations can be made to the American Heart Association or St. Paul's.