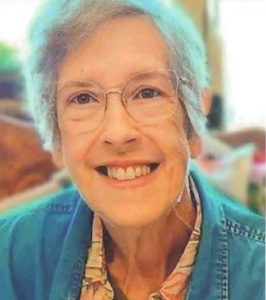 Kathryn Ann Woodworth went to be with our Lord on Saturday July 29, 2023 after a tough battle with cancer.  Kathy was born in Concord, California to proud and loving parents Cyril Paul Lorigan and Mary Shoff Lorigan on August 13, 1944. She was a loving daughter, sister, wife, and devoted friend. Kathy was preceded in death by her parents and her loving husband, Henry "Hank" Woodworth.  She is survived by her brother Robert Lorigan, along with her Adopted Family: Darryl & Margaret Archer, DJ Archer, Jennifer Archer & Alfredo Cantero, Natalie & Shane Kersten, and her special friends Linda Butler, Myrna Brothers, Diane Robinson, and Naomi Smith who cared for her tirelessly in her final few months.
Kathy was a Lifetime Member of the Methodist Church, where she was involved with the Church Library, Rotary, and more.  Kathy and Hank were members of the Houston Gun Collectors Club and participated in multiple gun shows over the years. She was Librarian at Landolt Elementary School for over 30 years.  Kathy studied and taught internationally.  She was a Rainbow Girl in her early years.
Her memorial will be held at the First United Methodist Church in Dickinson, Texas at 11:00 am on Saturday, August 5, 2023.