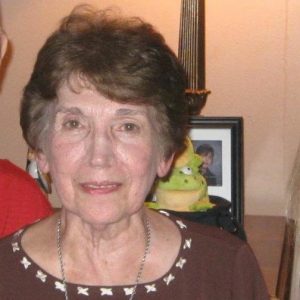 Kathleen Rae Murray Schraufnagel passed away peacefully Wednesday evening December 6th.  She was the eldest daughter of Chester and Kathryn Murray; born in Gary, Indiana October 1st. 1931.  She was preceded in death by her sister Karen Sibley.  She leaves behind brothers Patrick Murray and Chester James Murray; sisters Joan Sobczak and Joyce Fekete; her husband Bruce Schraufnagel; daughter Diane Leidy; son Tom Schraufnagel and wife Deana Chiavola; grandchildren Dustin Petershagen, Katelyn Leidy Baguez and David Leidy.  And great grandchild Savannah Leidy. 
In her early adult life Kathy lived and worked in San Francisco.  After being married she lived in Madison, WI; Manhattan, NY; Winston Salem, NC; El Paso, TX; Kwajalein, Marshall Islands; and West Stockbridge MA.  She settled and raised her family in Clear Lake City, TX.  Kathy was highly respected and well-liked by co-workers and clients.  She was known for her hard work, attention to detail and respect for all those she came in contact with.  She was proud of the prestigious Manned Flight Awareness Award she received while working for Northrup Grumman as a travel administrator at NASA's Ellington Air Force Base.
Kathy was a longtime resident of Clear Lake City living in the same house with her husband for over 49 years.  She volunteered with Helping Hands Group at St. Bernadette's Catholic Church and was a member of the Ladies Alter Society.
She enjoyed family, friends, Irish Music, theater, bridge, crafts, traveling, people and weddings.  She made and held on to many friendships throughout her entire life. Kathy was fortunate to have a close, loving family and a core of good friends in Clear Lake City.  She will be missed Friday Nights for dinner (with the gang).  In lieu of flowers please send donations to: St. Jude Children's Research Hospital, PO Box 1893, Memphis, TN 38101-9950.