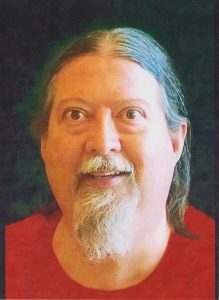 Karl Lawrence Jordan, born October 18, 1965 in Pasadena, Texas, died August 2nd 2023, from diabetic complications. Karl loved world history, military and political strategy, philosophy, memorizing poetry and fantasy gaming. As an Explorer Scout he mastered canoeing and rock climbing and planning "delicious" meals from canned foods. After attending Clear Lake High school Karl graduated from University of Houston in 1990 with a Bachelor of Science in Political Science and began a 30-year career with the City of Houston department of Public Works & Engineering. A Russian language course at Rice University provided the fluency he needed for several trips to Russia in the '90s.
Karl with his intelligence, knowledge, and humor will be missed by his mother Frances "Frankie" Ritter Wainwright, Aunt Linda Ritter, his father Keith Jordan and "mom" Sally Jordan, brothers Kirk Jordan, Jeremy Long, Jay Long, sisters-in-law, Rhonda Jordan, Nicole Trembath Long and Nicole Grove Long and his sisters Jonni Allen and Susan Long, nieces' Amber Clement, Karli Jordan, Bayli Allen, nephews, Brandon Jordan, Sterling Long, Tyler Allen, Blake Allen and great nieces and nephew Charli K. , Rory, and Knox. He will be remembered by his colleagues at work and the many friends he made everywhere.
A memorial service to celebrate his life will be held Saturday, August 26, 10:30 a.m. at Bay Area Unitarian Universalist Church, 17503 El Camino Real, Clear Lake.