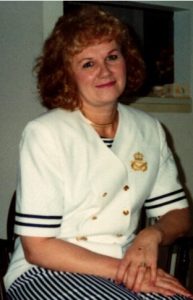 Our beloved mother, grandmother, great-grandmother, and friend, Karen Pierce Kerr Leiner, went to be with the Lord on December 11, 2022 after an eight year battle with dementia. She was being visited and comforted by friends, family, and the wonderful staff at Bayou Pines Care Center in La Marque, Texas at the time of her peaceful passing.
Karen was born on May 7, 1943, in McKeesport, PA. She was a strong, loving mother raising four children on her own with the help of her family and church community, while also working as a medical assistant. Karen married her loving husband, David Edward Leiner on July 14, 1979. To be closer to their children and grandchildren, David and Karen moved to League City, Texas in 1989. Karen was an active member at Grace Community Church in Houston, Texas. Throughout her life she sacrificed her plans to serve her family and friends whenever she saw a need that she could fill. She loved Jesus and was a prayer warrior like no other. Her legacy will live on in all of her children, grandchildren and great-grandchildren. She will be greatly missed, but we celebrate her life and that she is with our Savior completely healed.
She was preceded in death by her husband, David Leiner, her father Robert Wilson Pierce, her mother, Katherine May Bangert Pierce, her sister, Beverly Dornberger, and her great-granddaughter Evelyn O'Keefe.
Karen is survived by her four children and their families;Daughter Colleen Kofal and husband Kevin, their son Caleb Kofal, and son Jacob Kofal and wife Christina, and their three children Cooper, Connor and Cayde;
Son Cliff Kerr and his son Brandon Kerr
Son Donald Kerr and wife Maria, and Don's five children – son Shane Kerr and wife Meaghan and their son, Talon; daughter Kelsey O'Keefe and husband Connor, and their three boys Jamison, Killian, and Declan; son Cody Kerr; daughter Mackenzie Deville and husband Dakota and their daughter Isla; and daughter Kendall Kerr;
Son Ronald Kerr and wife Cori, and their three children – son Cameron Kerr and wife Cassidy, and their son Oliver; son Jonathan Kerr and wife Kacey; and Harrison Kerr.
A Memorial Ceremony will be held on Saturday, December 17, 2022 at 10:00am at Crowder Funeral Home – Webster Location, 111 East Medical Center Blvd., Webster, Texas 77598.