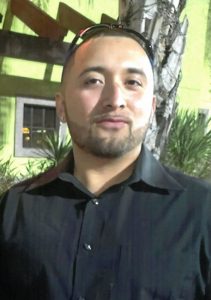 Julian Isaiah Sandino was born in Galveston, Texas on August 4, 1990. He went home to be with the Lord Monday, June 22, 2020 at his residence.
He attended Hitchcock Schools and graduated from Hitchcock High School. Julian was employed by NOB Company. He was committed to the Gulf Coast Regional Blood Center where he donated blood faithfully. His favorite sport was baseball and he attended many Astros and Houston Texans games.
He is preceded in death by his grandmother, Guadalupe Cortez. Julian is survived by his wife Rocellia Sandino, parents; mother and step-father, Antonia Gloria Handy and Joseph Bryant Handy, father Manuel Sandino, grandfather, Ruben Cortez, grandparents; Diania and Napolean Speller and siblings; Christopher Marshman (Amanda), Christina Johnson, Raphael Sandino (Nicole) and step-brother Michael Garcia (Crystal).
A visitation will be from 5:00pm-8:00pm on Sunday, June 28, 2020 at the James Crowder Funeral Home in La Marque. A Celebration of Life will be at 10:00am on Monday, June 29, 2020 at the funeral home with Pastor Avery Germany officiating. Interment will follow at Galveston Memorial Park Cemetery in Hitchcock, Texas.