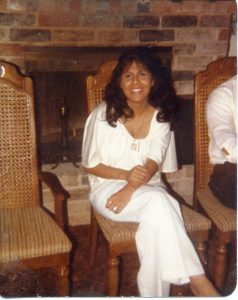 Julia Romero Messer, 73, was born June 25, 1943 in Galveston, TX. Julia passed away on Tuesday, October 11, 2016, at her home in League City, TX, surrounded by family and friends.
A memorial service celebrating Julia's life will be held at 3:00 pm on Saturday, October 15, 2016 at Crowder Funeral Home in Dickinson, TX.
Julia was a loving wife, mother and grandmother, sibling, and loyal friend to many. Her kind and giving nature, way with words, humor, and love is exemplified through every member of her family and her friends. She worked all of her life to take care of her loved ones. She will be both dearly missed and always around us.
She is preceded in death by her father, Augustine M. Romero, Sr.; mother, Eugenia Aguilar Romero; sisters, Otilia Romero and Maria Barrett; her brother, Richard Romero, Sr.
She is survived by her husband, Dr. Dale L. Messer; children, Johnny Davis, Jr., Chris Messer (wife, Erie), Matt Messer (wife, Brittanie), Mark Messer (wife, Celia), and Lynn Messer; sisters, Hortense Faulkner, Olivia Cuello, and Rosie Rivas; brothers, Dario Romero, Sr., Augustine Romero, Jr., and Armando (Sonny) Romero; and grandchildren, John, Madison, Chloe, Anthony, Alyssa, Audrah, Adrian, Mackenzie, Marlie, and Mason; and many other beloved family and friends, and cherished pet companions, Maggie and Bailey.
In lieu of flowers, please make a donation to Cancer Fund of America or Wounded Warrior Project.