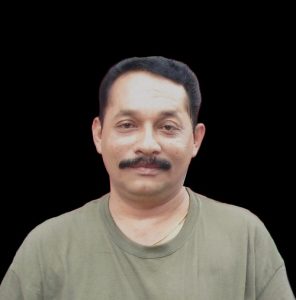 Juby Skariah (58), a resident of Stafford, TX, passed away on September 4, 2023. He was born on January 25, 1965, in Kerala, India and was the fourth child of the Late Skariah Skariah and the Late Ammini Skariah. He was a member of St. John's Dayara Church in Chingavanam.
He is survived by his wife of 26 years, Julie Juby; his children, Jiya Juby and Diya Juby; and his siblings (along with their spouses): Jolly George (George), Joy Skariah (Jainamma), Gigy Kurian (Fr. C. Kurian), Shaji Zachariah (Beena), Jancy Jacob (Roney), and Sajini Jacob (Shaji).
Juby was a loving and caring person and a devoted husband, father, and friend. He always treated everyone with pure intentions and made everyone feel acknowledged and loved. His kids meant the world to him, and he taught them to love, be kind, and remain strong. His voice was comforting, and you always felt at ease when talking to him. A lot of his most unforgettable memories are the ones shared with his siblings and parents.
Juby will be missed by all of his family and friends – especially his wife, children, and siblings. We love you.
A memorial service will be held on Thursday, September 7, 2023, from 6 p.m. to 9 p.m. at Crowder Funeral Home in Pearland. The funeral service will take place at Crowder Funeral Home on Friday, September 8, 2023, at 9 a.m., followed by the burial service at South Park Cemetery in Pearland.
The pallbearers will be Joy, Shaji, Roney, Shaji, Nikhil, Akhil, Zac, Jerosh, and Paul.
On behalf of Juby and our extended family, we want to say thank you to everyone who has come together to honor and celebrate his life.