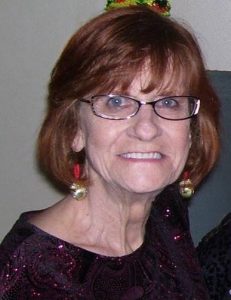 Juanita Kay Bridges, 74, resident of Dickinson, Texas passed from this life, Thursday, November 2, 2017 surrounded by family. She was born in Crosbyton, Texas on December 31, 1942 to proud and loving parents, Vernon & Dannie Bowman.
Kay was a loving wife, mother, grandmother, sister, and daughter. She was a hairdresser at Dale's Cottage Salon, in LaMarque, Texas for many years. She was a member of Northside Baptist Church.
Kay was preceded in death by her parents, and husband, Charles Edward Bridges.
She leaves behind to cherish a lifetime of memories, sons, Robert Edward Bridges & wife Trudy, & Richard Lee Bridges; brother Edward Allen Bowman & wife Joann; sister, Jean Harvey; grandchildren, Brandon Allen Peterson; Jessica Kay Bridges, Ryan Edward Bridges, Aaron Eddy, Allan Eddy, Rachel Angeline Bridges, & Jacob Anthony Bridges; seven great-grandchildren; daughter-in-law, Chrissy Bridges; brother & sister-in-law, Tommy & Mollie Bridges; nephews, Michael, Allen, Greg, Chris, & Kevin; and nieces, Cindy & Monica.
In her honor a celebration of life will be held Tuesday, November 7, 2017, 1:00 PM at Northside Baptist Church 2801 N. Logan St. Texas City, Texas. A graveside service will follow at Hayes Grace Memorial Park, Hitchcock, Texas at 3:00 PM.