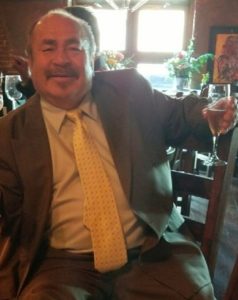 Juan Lorenzo Moya, 67, a 28-year resident of Dickinson, Texas (formerly of Tipton, IN) passed away September 25, 2022, in Dickinson, Texas unexpectedly in his sleep.  Juan was born on July 23, 1955, in McAllen, Texas, where he was raised.  He attended Abundant Life Christian Center and was devoted to his fellowship and faith.   Juan worked for and retired from Marathon Petroleum Company at the age of 53 after 30 years of service.  He enjoyed life and helping with his grandchildren before starting his business, Gutters by Moya, in Dickinson that is still operational today.
Juan was preceded in death and reunited in Heaven with his daughter, Blanca Cruz Moya; his parents, Guadalupe and Juanita Moya, Sr.; and his brothers, Jose Garcia, and Ismael Moya.
Juan is survived by his is wife of 48 years, Diana Moya; his daughter, Samantha Moya Solis and husband Thomas; his grandchildren: Abigail Solis, Caleb Solis, and Baron Solis; his sisters: Leticia Martinez, Virginia Arenas and husband Freddy, Carmen Recio and husband Robert, Elizabeth Garcia and husband Danny, Lourdes Moya and Ada Sue Moya; and his brother, Guadalupe Moya, Jr. and wife Sandra.
Juan had many passions in life and one was an eye for collecting antiques.  In his younger years, he would take the family on "family trips" around the country to go antique shopping and would throw in fun family events along the way.  He had an avid collection of glass and animal covered dishes which he was very proud of.  He loved to cook for anyone who wanted to eat.  He liked to have get togethers at his house to BBQ and swim.  He was known for his good food and providing for all.  I think what most will remember about Juan is his joking spirit and his love of work to provide for his family.  Most who knew him probably remember his usual sayings or Juanisms.  The one I fondly remember is anytime he would be going into Houston, if asked where he was going, he would say "the south side of Chicago".   Many of his work family have probably heard his sayings "Soup Time" or signing off the radio with "4-10 partner".
Visitation will be held from 4-7 p.m. Tuesday, October 4, 2022, at Crowder Funeral Home in Dickinson, Texas.  Funeral services are scheduled at 10 a.m. on Wednesday, October 5, 2022, at Crowder Funeral Home Chapel in Dickinson, Texas with Pastor Rusty Carr officiating.  Burial service will immediately follow the funeral with procession to Mount Olivet in Dickinson, Texas where he will be laid to rest.
Pallbearers will be Guadalupe Moya, Jr., Charlie Moya, Leroy Moya, Thomas Solis, Caleb Solis and Baron Solis.