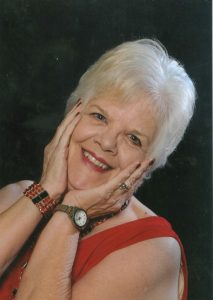 Joyce Elaine Beal, 74 of Bayou Vista passed away on Monday, June 20, 2022. She was born October 20, 1947 in Galveston to Roy and Hazel Thomas.
Elaine is preceded in death by her parents, husband, Ronnie Beal, sisters; Carol Sue Rimmer and Emma Lenora Smith, brother Royce Wendell Thomas, and great grandson John Leo Henry. She is survived by her daughter Lisa Pauline Manis and son Robert Wayne Manis, Jr. and wife, Ali, eleven grandchildren; Nikki (Naveed), Tori (Aaron), Rachal, Lanie (Morgan), Chloe (Desiree), Jordan, Megan (Logan), Jackson, Gannon, Tucker, Ava, and over twenty great grandchildren.
Elaine was a proud 1966 graduate of Santa Fe High School & Tribal Belle. She was also a longtime member of the Order of the Eastern Star. She worked 20 years for Texas A&M University in College Station, TX with her last 5 years working in Doha, Qatar, in the engineering department as the assistant to the chief information officer. She had the opportunity to travel the world while in Qatar and acquired her most prized possessions. Her happiest memories were made with family and friends, driving her golf cart around Bayou Vista with her dog Roy Boy, and cruising out of Galveston with her friends and family, including her sister-in-law, Barbara Parrish Thomas and friend Pat Brown. She loved being a member of the "Beach Girls" and the many high school reunions she attended with lifetime friend, Lola Adair.
Elaine was a proud stroke survivor and her health had recently gotten to its peak. Her infectious smile and kind heart graced all that knew her. In lieu of flowers donations may be made in her memory to the Bayou Vista Police and Fire Department.
Services will be held Saturday, June 25th at 11:00AM at James Crowder Funeral Home at 401 Texas Ave La Marque, TX 77568 with Pastor Bill Glidden officiating. The family will be receiving visitors prior to the service at 10:00AM. Joyce will be laid to rest alongside her husband at the Masonic Cemetery in Caldwell, Texas at a later date.