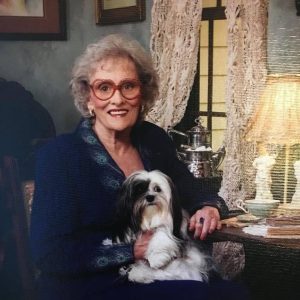 Joy Anthony Smitherman died peacefully April 10, 2023, in Houston, TX
A service and Celebration of her life will be held Friday, April 14, at 11:00 am at Clear Lake United Methodist Church with a reception to follow at Bay Oaks Country Club.  Graveside service and burial will be Saturday, April 15, 12:15 pm, at Forest Park Cemetery in Shreveport, LA. To honor Joy, the family hopes that those attending will wear bright, beautiful colors.
Joy was born February 7, 1931, in El Dorado, Arkansas. She attended Louisiana Tech where she was a member of Alpha Chi Omega and met Charles. Charles proposed at Shreveport's Strand Theater when she found her ring in their box of popcorn. They married in El Dorado in 1950 and began their married life in Quantico, VA, before heading to Honolulu where Charles would be stationed as a US Marine.
Throughout their married life they lived in 9 states until "in 1987, we came to Houston Heaven". Joy always worked and volunteered with tireless energy. She served as an ESOL teacher, Church volunteer, Tutor, Clear Lake Alumni Panhellenic Association, Bay Area Museum Guild (33 years)/President/Director, Bay Area Houston Symphony League, many positions with Lunar Rendezvous, Grand Opera House Board, Bay Area Ballet and Theater benefactor, Bay Oaks Country Club and Women's Association, and anywhere she saw a need. She loved cooking, gardening, playing bridge, reading, playing the flute (South Arkansas Symphony), and keeping up with friends on Facebook. Most of all she loved people.
Joy was honored in 1999 as one of the Men and Women of Heart. Mayor Brown proclaimed May 4, 1999, as "Joy Smitherman Day" in Houston recognizing her "many and outstanding contributions to the Bay Area Museum". She was chosen as one of the Grand Dames of Clear Lake who creatively and artistically impacted the Bay Area and was honored at The Arts Alliance of Clear Lake Gala in 2008. Joy strongly believed in helping others and making her community and our world a better place.
Her parents, Jewel Bond and Arty Loyce Anthony, her sister, Mary Lou Welch (Les), son-in-law, Charlie Morris, and numerous relatives and friends preceded her in death.
Joy is survived by her devoted husband of 72 years, Charles; their children Valerie Riddle (Paul), Carol Smitherman Anglin, and John Smitherman (Jill).  They have 8 wonderful grandchildren: Halina Hickerson (Dave), Melody Clifford (Jared, and children Lincoln,Johanna), Dr. Emily Smitherman, Hannah Gresham (Lee), Jacob Smitherman (Kelsey), John Anthony Anglin (Susan and daughter, Edith), Alexander Anglin (Annika), Bailey Anglin;  a nephew, Randy Welch (Julia), and great niece, Elizabeth Jones (Kenny), several cousins and many, many friends.
Joy was in the first new member class of the Assistance League of the Bay Area and an active member for 33 years. She loved this work and received several leadership and service awards. She continued to volunteer at the Resale Shop as long as she was able. Memorials may be made "In Memory of Joy" to Assistance League of the Bay Area, PO Box 591131, Houston, TX 77259-1131 or by visiting their website.