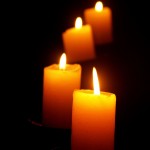 Josephine Melgoza, 81, passed away May 18, 2017. She was born August 26,1935 in Dallas, Texas to parents Frank and Josephine Hernandez. She had been a resident of Friendswood since 1976. Josephine was of the Catholic faith. She was a nurturing, caring and dignified woman. Her lovely, kind, generous and faithful spirit will always live in the hearts of all her children, grand-children and great-grandchildren.
She was preceded in death by her husband Daniel R. Melgoza in August of 2010.
She is survived by her daughters, Fina Melgoza Charles and husband Ray Charles, Danielle D. Melgoza and husband Armando Rodriguez; sons, Daniel D. Melgoza and wife Esther Garcia Melgoza, Dino D. Melgoza and wife Penny Melgoza; grandchildren Donato Melgoza-Charles, Ray Charles Jr., Emanuel Vasquez, Josephine Dada Melgoza, Jacob Wagner, Dominic Melgoza, Lucas Melgoza, and great-granddaughter, Alina Rose Vasquez.
A Rosary Service will be held on Wednesday, May 24, 2017 at 2:00 p.m. at Crowder Funeral Home in Dickinson, Texas. She will be laid to rest at Arlington National Cemetery in Arlington, Virginia.