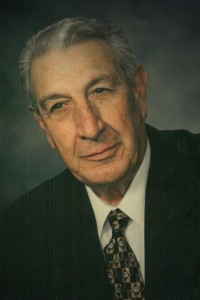 Joseph Peter Gulotta, 95, of Hitchcock, Texas passed away on the evening of Tuesday, March 24, 2015. Joseph was born on July 1, 1919 in Galveston, Texas to Maria and Gasper Gulotta. He was a 30 year resident of Hitchcock, formerly of Texas City, and a member of Our Lady of Lourdes Catholic Church. Joseph was a member of the United States Navy during WWII, the Knights of Columbus and a 4th Degree, JM Babin Council. He was part owner of the Terrace Drive Inn in Texas City and worked as a boilermaker before his retirement.
Joseph is preceded in death by his mother and father, and his step-son; George Mitchell Delany, Jr. He is survived by his loving wife; Mary Etta Gulotta, step-son; James Thomas Delany and wife Rhonda of Friendswood, brother; Gasper Gulotta of Houston, and five grandchildren; Laura Taylor Delany, Christopher George Delany, Michael Thomas Delany, Matthew Don Delany and Megan Elizabeth Delany. Special nieces Marie Janke and Elizabeth Lawhorn Cryder. "Papa Joe" was a loving husband, father, grandfather and friend to all he met. He loved to cook as much he loved people.
Visitation will be held on Friday, March 27, 2015 at 1:00pm at James Crowder Funeral Home in La Marque. A service will begin at 2:30pm on Friday, March 27, 2015, followed by internment at Galveston Memorial Park in Hitchcock.
Pallbearers will be Nick Janke, Matt Janke, Yancey Lawhorn, Gabe Gulotta, Albert Janke and Tommy Toups. Honorary pallbearers will be, Melvin Bolding, James Thomas Delany, and members of the Knights of Columbus.