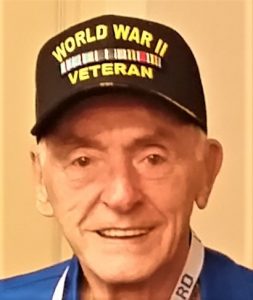 Joseph M Hahn, "Joe" 95, a long-time resident of Dickinson, Texas passed away peacefully November 8, 2019.
He was born in Buffalo, NY on February 15, 1924 to parents Martin and Gertrude Hahn. Married to the late Dominica T. "Mae" Hahn. He was a member of the Shrine of True Cross Catholic Church for 65 years where he was a Knights of Columbus member. Joe was a WWll veteran honorably discharged, serving with the US Coast Guard.
He is survived by sons Larry and wife Mary, Michael and wife Veronica, 6 grandchildren: Melinda, Lorie, Gina, Jennifer, Brian and Amy and 13 great grandchildren.
The family will receive friends from 5pm-8pm with a vigil and rosary beginning at 7pm, Friday, November 15, 2019 at Crowder Funeral Home in Dickinson.