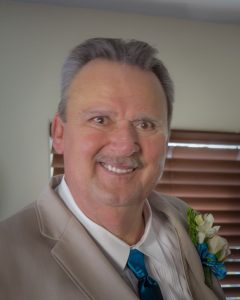 Joseph John Tysarczyk was born February 15, 1950, in Pittsburgh, Pennsylvania to Joseph Richard Tysarczyk and Helen Catherine Tysarczyk. Joe was one of five children and yet, he was one of a kind! He was brother to Ed Tysarczyk (Bonnie Tysarczyk), Elaine Sullivan (Rich Sullivan), Jeannie Eiben (Bob Eiben) and John Tysarczyk (Cathy Tysarczyk). He was larger than life in stature (being 6'6" tall), but even more so in personality. He was a jokester, loved to make people laugh, and always told great stories. He was kind, giving, sweet, loving, and inherently a tad bit stubborn.
He was a loving husband to Donna Tysarczyk for 28 years, a devoted father to his four girls from his first wife and mother of their children (Deanne Marino). He often said having his girls was the best thing he ever did in life and loved his daughters Lisa Ruefle (Keith Mallik), Debbie Hunt (Brion Hunt), Kristie Odom (Rob Odom), and Kim Davila (Jerry Davila Jr.), as well as his two stepsons Chad Brouillette (Melissa Brouillette) and Craig Brouillette (Michelle Brouillette). He is survived by thirteen grandchildren: Justin Tysarczyk, Meagan Ruefle, Jake Ruefle, Kevin Odom, Kayla Odom, Nick Westerman, Francisco Davila III, Chase Brouillette, Meagan Brouillette, Maddie Brouillette, Colby Brouillette, Mackenzie Villanueva, and Randi Brouillette and one great grandchild, Bentley Westerman.
Joe relocated from Pittsburgh, Pennsylvania to Houston, Texas in 1981 for his career. He settled in La Porte, moving into his home in 1988, where he lived for the remainder of his life, creating many wonderful memories for our family. Joe worked for Empak/Vopak in Deer Park as a Disposal Operations Superintendent and Fire Safety member for 30+ years. While working there, he gained many lifelong friends with which he still communicated on a regular basis.
Even though he moved far from home, he made certain to always stay in touch with his family. He had a standing Sunday morning call with his sisters, brother, and dad (nicknamed Blaha) until his passing and then continued with the tradition with his siblings for the past 40 years! He routinely spent his vacation time returning to Pittsburgh to see his family.
He devoted his life to his family and his four girls, who will continue to love him immensely. While his children were young, he could be found tossing them around in the swimming pool or playing kickball in the street; of course, including the neighborhood kids and then inviting everyone to Dairy Queen to celebrate with ice cream. Other days, you could see him struggling to push a shopping cart loaded down with four girls, hanging off the sides while he filled the cart with weekly groceries. The looks he would get from the people in the market were priceless! There were countless times he would drive all four daughters across the nation from Texas to Pittsburgh. We would listen to the Grease soundtrack repeatedly while all four girls sang the same songs over and over for 20+ HOURS! His love & passion for classic cars & drag racing were passed down for generations. When the Houston Raceway Park opened in 1981, the year we moved to Texas, he started taking his four girls to the Spring and Winter Nationals. Not only did his four girls share his passion for drag racing, but it was passed to most of his grandchildren as well. He spoke with his daughters weekly, if not daily. He took advantage of every holiday, birthday, or really any occasion to be with his family and eat cake! He was an amazing role model; was never shy to express his love and pride for his family and always gave the best advice.
Joe had a kind heart and would consistently go out of his way to help somebody in need. He was known for shoveling the walkway or cutting the grass for his elderly neighbors in Pittsburgh, helping friends or his kids move, or even donating to St. Jude and the ASPCA. It goes without saying that he had a soft spot for kids and animals. He always joked that kids and animals loved him and we can confirm it is true. In recent years, he had three Shih Tzu dogs: Abby, Cali, and Holly whom he spoiled with treats and weekly trips to the groomers. He also had three neighborhood cats that he fed daily that brought him such joy. Even when walking became difficult and every step painful, he would still walk to the back door every morning to greet the cats and make sure his neighborhood animals had fresh food and water.
He always put others first and he never complained. He never asked for anything but gave so very much of himself to others. When his health started to decline and needed help, he could rely on his best friend Jerry, or his girls to get him through. He was so very grateful and always thanked us for everything that we did for him. We learned from him how to live a full and blessed life – love openly, be honest, be helpful/giving, respect everyone, and always try to be kind.
A Celebration of Life will be held for Joe at the Crowder Funeral Home in League City at 1645 East Main St. League City, TX 77573, on Monday December 19, 2022. The visitation will begin at 11:00 AM, family and friends may come and go as they wish to pay their respects. The service to honor Joe will begin at 12:00 PM. In lieu of flowers, a donation to St. Jude or the ASPCA (American Society for the Prevention of Cruelty to Animals) may be made in his honor.