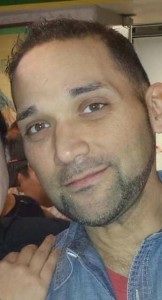 Joseph "Geoff" Monclova was born April 20, 1976 in Freeport, TX., and passed away in Webster TX., August 11, 2015. Geoff lived the past 3 yrs. in the Galveston county area and he was formerly from the Brazosport area. He was raised in the Catholic faith.
Geoff is preceded in death by his father, Joe Monclova, Jr.; grandparents: Joe, Sr. and Lydia Monclova and Lorenzo "Lencho" Hinojosa.
He is survived by his daughters: Alexus Monclova, Alyson Monclova and Alycia Monclova; son, Isaac Pena; parents; Sandra Monclova and her husband Gary Gehring; sister, Monica Voncannon; grandmother, Frances A. Hinojosa; uncle, Rudolph Monclova.
A visitation will be held on Friday, August 14, 2015 from 5-8 pm with a rosary at 5pm at Crowder Funeral Home in Pearland. Funeral Service will begin at 11:30 am, Saturday, August 15, 2015 in the Chapel of Crowder Funeral Home.
Honorary pallbearers will be cousins: Jerry Morales; Adam Erik Valdez, Cory Hinojosa, Renaldo Hinojosa, Damien Hinojosa, Chris Monclova, Jesse Rubio Jr. and Patrick Rojas.
In lieu of flowers, please make donations to: Habitat for Humanity of Denton County or American Liver Foundation.