Joseph Arthur Willhelm, Sr.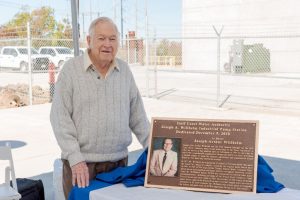 Joseph Arthur Willhelm Sr., 92, of League City Texas, passed away on June 17, 2022. Joseph was born March 6, 1930, in Galveston, Texas to loving parents Ernest Virgil and Edith Owen Willhelm. Joseph was a beloved husband, father, brother, grandfather, great-grandfather, great-great-grandfather, uncle, and friend to so many people. Joseph met the love of his life, Elizabeth Dayhoff Willhelm, in 1947 and married her in 1951. They shared an amazing 75 years together.
Joe was proud to be an Aggie, earning a BS in Dairy Sciences and, after a stint in the Army, a BS in Agricultural Engineering. While at A&M, Joe commanded ROTC Company A his senior year, and upon graduation in 1951 was commissioned as a 2nd Lieutenant in the US Army. He served on active duty during the Korean War, primarily in Nome and Pt. Barrow, Alaska.
After a year or so with Caterpillar Inc. in Peoria, Illinois, Joe returned home to work for Union Carbide in the water processing facility for the Texas City plant. The water utility evolved over the years into the Galveston County Water Authority (now known as the Gulf Coast Water Authority). In addition to making many lifelong friends while working there, Joe served as its General Manager from its establishment in 1964 to his retirement in 1995. Under his leadership, in 1988 the Water Authority secured perpetual senior water rights in the Brazos River, thus ensuring that industry and communities in Texas City, along the ship channel, and throughout Brazoria, Fort Bend, and Galveston Counties had ample and reliable water supplies.
Joe was always ready and willing to pitch in and help with whatever his family, friends, and community needed. As a BOI ("born on the Island") and having met Elizabeth (another BOI) there while attending Ball High School, Joe always held his hometown and his many hometown friends close to his heart. He served many hours as docent for the Samuel May Williams house and elsewhere supporting Galveston Historical Foundation's mission of preserving the city's heritage.
Joe also was the oldest member of Holy Trinity Episcopal church in Dickinson. He and Elizabeth were married there, in the "old wooden" church. He served as treasurer, junior warden, and senior warden, on countless committees, and as a lay reader over his many years of service to the congregation.
He was a Master Mason for 70 years and lifetime member of Dickinson Masonic Lodge #1324 where he was a Past Master (1965-1966) and past Deputy District Grand Master (1971). He received the Golden Trowel Award (2012-2013) from the Grand Lodge of Texas for exceptional service. He was also a member of the Scottish Rite Temple of Galveston for 55 years.
Joseph is preceded in death by his parents, grandparents, his siblings, Ernest Willhelm, Jr., Edgar Willhelm, Margaret Feistel, Sydney Willhelm, and Fredrick Willhelm, and his infant granddaughter, Jessi Willhelm.
Left to cherish his amazing life are his wife, Elizabeth Willhelm, his five children, Joseph Willhelm, Jr. (Donna), Keith Willhelm (Mirela), Gayle Couch (Todd), Steven Willhelm (Sandra), and Timothy Willhelm, eleven grandchildren, twelve great-grandchildren, three great-great-grandchildren, and numerous nieces, nephews, and other family members and friends.
Please join us in celebrating Joe's life on Saturday, June 25, 2022, at Holy Trinity Church, 4613 Texas Highway 3, Dickinson, Texas 77539.  Funeral services will commence at 10:00 a.m., but the church will open at 9:00 a.m. for visitation.  A brief graveside service will follow, and then a reception in the church parish hall.  In lieu of flowers, please consider donating to the Texas Scottish Rite Children's Hospital (https://scottishriteforchildren.org).