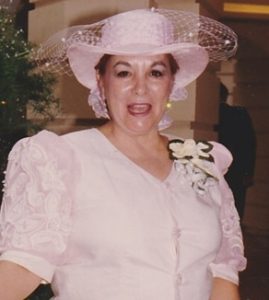 Josefa Garcia Karaze 80 beloved daughter, sister, mother, wife, Mimi and friend was called home to heaven on May 22, 2023.  She was born on February 15th, 1943, to Victor and Eva Garcia.
She is preceded in death by her parents, her husband, Ronaldo Soliz.  Her zest for life and legacy will carry on through her children Ronaldo Soliz and wife Amy, Orlando Soliz, Lisa Steffensen and husband Jorgen and Michelle Staggs.  Her grandchildren, Andrew Soliz, Miriah Glaser and husband Cedric, Maghan Collins and husband Devin, Aaron Soliz, Kristina Soliz, Orlando Soliz, Victor Enriquez and wife Stephanie and Anna Enriquez and Jacob.  Great grandchildren, Eli, Julian, Everly, Ariellah, Sienna, Sophia, Ezra and Emily.  Her sisters, Stella Guerra Nelson and husband Richard preceded in death and Eva Ninman and husband Phil and family members and friends. Most importantly she loved her extended family in Corpus Christi, Tx and cherished the time she spent with them when she could.
Josie was a real estate agent by trade and thoroughly enjoyed helping others find their forever homes.  She raised four beautiful successful, loving children and enjoyed watching them achieve and pursue their dreams.  She enjoyed cooking, traveling, journaling, gardening, reading and a few gambling excursions here and there.
Her career and devotion to helping others led to a lifetime of friendships she cherished her entire life.  Leaving behind stories and memories we will always cherish.  Josie knew no strangers and provided everyone with an open heart.
Josie was a selfless woman, and she would ask of us all to be selfless right now.  Please encourage and support each other in her memory as we attempt to figure out what life looks like without her.
Funeral Services will be at Crowder Funeral Home in Webster/Clear Lake on Wednesday, May 31, 2023, at 11:00 AM.  A Celebration of Life and reception will directly follow the services.