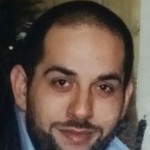 Jose Villarreal, Jr., 37, resident of Hitchcock, Texas passed away. He was born August 4, 1976 in Oceanside, California to parents Jose and Norma Jean Villarreal.
He is survived by his mother, Norma J. Carrera and Israel; father, Jose Villarreal, Sr. and Sylvia; grandmother, Felicita Garcia; sister, Teresa M. Rodriguez and Isaac; brother, Robert Villarreal; stepsister, Danielle Morales; stepbrother, Domingo Morales, Jr.; and loving nephews, Robert Jr., David, Charlie, Jose, Frank, and Dayson.
Visitation will be held from 10:00 a.m.-11:00 a.m. Saturday, April 26, 2014 with Funeral Services beginning at 11:00 at Crowder Funeral Home in Dickinson. Interment will follow at Galveston Memorial Park Cemetery in Hitchcock, Texas.