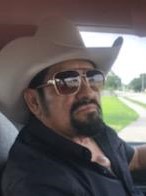 Jose Perez Reyna, Sr., 65, a resident of Dickinson, Texas, passed from this life, Friday, January 7, 2021 surrounded by his loved ones. Jose was born in San Luis Potosi, Mexico, September 18, 1955 to Valente Perez Puente and Fransica Reina Reina.
Jose was the proud owner and operator of the Perez Construction Company. He worked all over the United States. He went wherever the work was. His proudest accomplishment was being a father, grandfather, brother, uncle and friend.
Jose leaves behind to cherish his memory, his mother Fransica Reina; four daughters, Raquel Perez, Alma Perez, Maricael Hernandez and husband Alejandro, and Krystal Perez; five sons, Louis Balderas and wife Edwina, Christopher Balderas, Sr., Andrew Balderas, Sr. and wife Olga, Jose Perez, jr. and Ricardo Perez; three sisters, Raquel Torres and husband Geraldo, Mary Cruz and husband Narvaez and Caroline Perez; eight brothers, Antonio Perez and wife Florencia, Socorro Perez and wife Natalia, Fabien Perez and wife Laura, Felix Perez, Sixto Perez and wife Guadalupe, Pablo Perez and wife Norma, Isidro Perez, and Eduardo Perez and wife Laura; and thirteen grandchildren, Bobby Spearman, Jr., Alayah Spearman, Eli Hernandez, Angel Balderas, Feather Balderas, Christopher Balderas, Jr., Anthony Balderas, Melva Balderas, Louis Balderas, Andrew Balderas, Jr. Juan Balderas, Nevaeh Balderas, and Heaven Balderas.
In his honor a visitation will be held Wednesday January 13, 2021 from 5:00-8:00 with a rosary at 6pm in the Crowder Funeral Home Chapel a funeral service will follow Thursday January 14, 2021 at 11:30am. With interment at Mt. Olivet Catholic Cemetery, Dickinson, Texas.