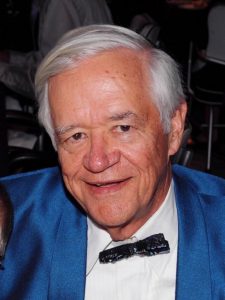 John Harvey Spang, age 74, passed away on November 9th, 2017, in League City, Texas.
John was born on September 15th, 1943, in his family home in Lorain, Ohio to Harvey and Cathryn Spang.John was a life long lover of boating and fun.  He grew up eating donuts and decorating cakes in the family run Spang Bakery. He was an Eagle Scout and played basketball. Throughout his life he loved interacting with people and the challenge of problem solving. His annual 30th Birthday celebration was an event he looked forward to celebrating, whether with cake, crazy hats, or his signature loud pants.  He took advantage of the time in retirement to dote on his grandchildren, live life to the fullest, and achieve his dream of completing the America's Great Loop with his wife, Terry.
John was active throughout his life in many organizations including Sigma Xi – The Scientific Research Society, American Association of Petroleum Geologists, United States Power Squadron and American's Great Loop Cruisers' Association.
John's education began at Denison University in Ohio, continuing at Brown University and culminated in a long career as a geology professor first at the University of Calgary and then concluded at Texas A&M University. In lieu of flowers, the family suggests considering making a donation to Denison University for The Spang Prize for Excellence in Geosciences Fund (www.denison.edu/give).
He was proceeded in death by his parents, Harvey and Cathryn Spang.
He is survived by Terry Spang, wife, Bob Spang son and wife, Jill Spang, grandchildren Sarah, Will, and Katie; his brother and sister in law Hank and Joan Spang.  His parents in law Jim and Carita Gould, brother in law and wife Mitch and Marianne Gould, brother in law and wife Steve and Laura Gould, and sister in law and husband Christy and Keith Linsley.  And many nieces and nephews.
A memorial service will be held on Tuesday, November 14, 2017, beginning at 11:00. The service will be at Crowder Funeral Home located at 1645 East Main Street, League City, Texas 77573.