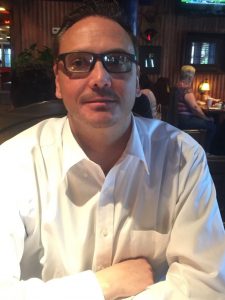 Jonathon "Jonny" Heitman, 44, of Houston, Texas passed away Sunday, January 7, 2018. He was born October 22, 1973, in Houston, Texas to Ronald and Wendy Heitman. He is survived by his 4-year-old daughter Gwendolyn Ann, older brother Christopher Heitman, sister-in-law, Stephanie and their children, Niklas, Andrew, and Kathryn from Richmond, TX; his sister Jennifer Pliske and her children, Emily, Joshua, and Carson and great-niece Olivia from Goodyear, AZ; his cousins Kathy and Eddie Paddock from Pearland, TX,  and many other aunts, uncles, and cousins.
He was a friend to many and was surrounded by an abundance of friends throughout his life. People would often joke that his friends would have never even known each other if it weren't for Jonny. A connecting thread in a colorful crew, Jonny was funny, goofy, yet brutally honest. Stories of his escapades and adventures would create laughter for hours because for Jonny, being curious and mischievous was just part of who he was, and this always kept things interesting.
Jonny loved his friends, his furry friends, and especially his family. He was a proud father who loved to be around his daughter Gwen. He loved just being with her, watching her laugh and experiencing life with her; watching her grow. Jonny had a gentle, kind, easy-spirited soul. He will be missed immensely by his family, daughter, and countless friends he made throughout his life. He now rests peacefully in heaven with his mother Wendy and father Ron.
Family will receive friends at 1:00 p.m. Monday, January 15, 2018 followed by a Celebration of Life at 2:00 p.m. The service will take place in chapel at Crowder Funeral Home, 2422 Broadway Pearland, TX 77581 with Father Jim Courville officiating.
The family would like everyone to know that if you have a loved one struggling with addiction, be assured there are resources that can help. Please don't be afraid of risking a friendship by keeping silent-you may end up losing a friend or loved one. There are local resources that can help: NIPC, AA, and Al-Anon. The family asks that in lieu of flowers please make a donation to one of these organizations. If we remain silent, we are adding to the problem.