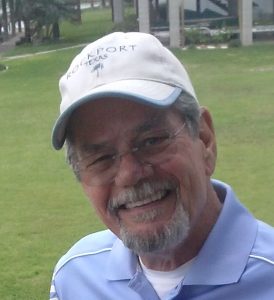 Johnny Mack Pearce, Sr. (74) of Bayou Vista, TX passed away Monday, October 3, 2016 in Galveston, TX.  He was born October 1, 1942 in Weslaco, TX to Mack T. Pearce and Barbara M. Myers (both deceased).
He is survived by wife Theresa (Callaway), daughter Cynthia, son Johnny Jr., brother Freddie (Martha), brother-in-law Peter Coronado, a granddaughter, nieces, nephew, his four legged faithful furry companions, as well as a multitude of friends, many of whom were lifelong.
Johnny began his professional career working with sheet metal at Blumenthal Sheet Metal, Inc. His work with metals enabled him to become the Maintenance Manager for Uncle Bens, Inc. from which he retired after a long and successful career. He enjoyed his retirement by achieving state and federal certifications for inspections.  This allowed him to serve as the Building Inspector for The Village of Tiki Island and the City of Bayou Vista.  After his time there he left to form his own independent inspection service company which ensured building codes compliance with TDI and FEMA Regulations.
Johnny lived life to the fullest beginning with motorcycle and auto racing in his early life, and then became an avid hunter and fisherman, but his greatest joy of late was to be on the golf course with his buddies.
He will be truly missed by those whom he touched through his friendship, and presence in their lives.
Johnny always expressed that he wanted people to remember him the way he was prior to death and therefore requested a private (family only) visitation which was held Wednesday afternoon.