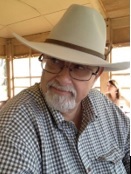 John Michael Hamlin of League City, Texas passed away peacefully at the age of seventy-one on Monday, October 4, 2021.
John is survived by his wife of 34 years Melissa Hamlin; his two sons Shawn and wife Janet Smith and Brad and wife Pam Smith, Sister, Rene and husband Ron Helms, Sister in laws, Linda Coney, Teresa, and husband Gene Watts; 8 grandchildren, 3 great grand-children, 5 nieces and nephews, and 5 great nieces and nephews.
A military service will be on Monday November 8, 2021, at 10:45 am at The Houston National Cemetery, Lane 2, located at 10410 Veterans Memorial Dr., Houston, TX 77038. Afterwards, a memorial service will be at 3:00 pm at Gloria Dei Lutheran Church, 18220 Upper Bay Rd, Houston, TX 77058
John was known by many names throughout his life. As Romeo said, "What's in a name? A rose by any other name would still smell as sweet."
Known as Mike to his friends and family growing up, he was born on January 24, 1950, in Fort Clayton, Panama Canal Zone to Edith Paulk Hamlin and John Edward Hamlin.
Mike graduated from Calhoun High School in 1968. After returning from serving in the US Army in Vietnam, he received a bachelor's degree from Howard Payne University in Brownwood, Texas.  He also received a master's degree from Texas Southern University in Educational Leadership in 1999.
In his professional life, he began using his given name, John. For 27 years John worked tirelessly in education. He served not only Galveston County but Harris and Fort Bend Counties as well. For those 27 years he taught special needs children at the Middle and High school level. He also served as a football, basketball and track coach interacting with many troubled students. He was a beloved teacher and coach, and his outreach was felt not only by students but also by parents and colleagues
When marrying Melissa August 29, 1987, John's family grew to include two new sisters, their husbands, and their children. John was a devoted uncle to all his nieces and nephews. While his nieces and nephew from the Hamlin side of the family called him "Uncle Mike," his nephew, David, lovingly gave him the nickname "The Hammer." Uncle Mike/The Hammer was a champion for his nieces and nephews, and their children when they started families of their own. He cheered at school events, gave great advice, and opened his home when they needed a soft place to land.
The names that were most dear to John's heart were Father and Granddad. His greatest delight was spending time with his two adult sons and their families. He never missed an opportunity to visit them or to travel to watch his grandchildren play sports. He always had a photo at the ready, and never missed an opportunity to brag on what Godly men his sons had become and, the wonderful families they have built.
John was an enthusiastic lover of American and Texas History. He was actively involved in the Texas Society of the Sons of the American Revolution and received countless awards for his service. At the time of his passing, he held the position of Secretary of the Bernardo de Galvez Chapter and Vice President at the State level. He was also a member of the Sidney Sherman Chapter 2 of the Sons of the Republic of Texas.
What's in a name? Mike. John. Brother. Husband. Father. Granddad. Uncle. The Hammer. Teacher. Coach. Friend. No matter what name you knew him by, he was ours. He lived and loved with all his heart. And, he was loved by so many in return.
In lieu of flowers, donations may be made to the Bernardo de Galvez Chapter, Sons of the American Revolution, Post Office Box 1, Galveston, Texas 77553 or DAV – Disabled American Veterans (www.dav.org/ways-to-give), or Gloria Dei Lutheran Church Endowment Fund, 18220 Upper Bay Rd, Houston, TX 77058. (/https://gdlc.org/giving/).