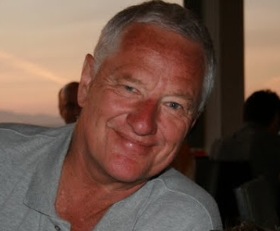 John Andrew Withey, 69, passed away on January 16, 2015 in Nassau Bay, TX.  He was born on April 25, 1945 in Ann Arbor, MI to Charles D. Withey and Alice D. Newman-Withey.
John is survived by his wife Amelia Withey; daughters, Laura Withey-Thornton, Lisa Withey and Sarah Withey; son John Withey; step children Audra Simpson and Teddy Childers III, sister Nancy Harris; brother, Charles Withey; his precious grandchildren, Benjamin Withey, Jacob Thornton, Natalie Simpson, Logan Thornton, Tyler Simpson, Caleb Thornton, Teddy Childers IV, Winter Withey, Maggie Childers and Siena Withey; and numerous other family members and friends.
When his nation called, John joined the United States Air Force.  He then earned a BS in Technology Management from American University in Washington D.C.  John worked as a database engineer for Boeing for 35 years.  He had a passion for life and loved to spend time with his family and friends, especially his grandchildren.  John was kind, patient, generous and loving.  He will be missed by all that knew him.
A visitation will be held on Wednesday, January 21, 2015 from 6:00 PM to 8:00 PM at Crowder Funeral Home in Webster.  A Funeral Service and interment will follow on Thursday, January 22, 2015 at 11:30 am at the Houston National Cemetery Chapel (10410 Veteran's Memorial Drive, Houston 77038).
In lieu of flowers those wishing to make a memorial donation in John's memory may do so to the Wounded Warrior Project (www.woundedwarriorproject.org).  Please include in the acknowledgement section: John Withey 1006 Lake Country Drive, Taylor Lake Village, TX 77586.
 I have this feeling, there is one more star up in the sky tonight,
And even though it is far away
Its brightness and warmth still reaches us here to make the night a little less dark