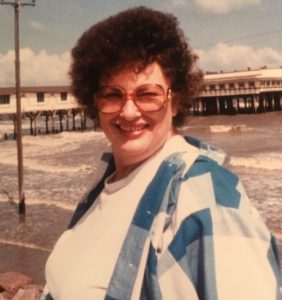 JoAnn Smallwood, 89 years old, was called home to be with the Lord on February 10, 2021. She past away peacefully resting in her home. She is reunited with her father Charlie Houston Cobb, mother Margie Leila Cobb, sister Margie Ruth Baccus, brother Donald Wayne Cobb, and son Mark Randall Smallwood.
JoAnn was born on January 24, 1932 and spent almost her entire life in Houston, Tx. At the beginning of her career, she started working as a banker for East End State Bank while finishing her High school diploma. Later she moved on to be an Accountant/Bookkeeper for Southern Display for 20+years.
JoAnn, also known as G-ma, loved to spend most of her time baking, cooking, crocheting, sewing, and listening to all of nature's tunes out on her patio. Her green thumb was like no other and the joy her garden gave her was enlightening. She was an independent, strong-willed, passionate, creative mother to 3 generations of her family. She was full of joy, laughter, smiles and love. She always expressed that her greatest passion was being able to watch her grandchildren and great-grandchildren grow.
She leaves behind her legacy and wonderful memories with her children: Jennifer Fillback, and Ronald Smallwood, her grandchildren: Dominique, Candice, Joshua, Nicholas, Kristen, Meagan, and Joe, her great grandchildren: Aliyah, Joshua II, Aiden, Mckenzie, Hunter, Harper, Alyce and Knox. She also leaves behind many cousins, nephews, and nieces from the Baccus family, Blankenship family, Cobb family, Rodriguez family, Corona family and many other family and friends that she held dear to her heart.
A Memorial Service will be held at 2:00 p.m. on Saturday, February 27 in the Chapel of Crowder Funeral Home in Pearland. Visitation to follow from 3:00 p.m. to 4:00 p.m.