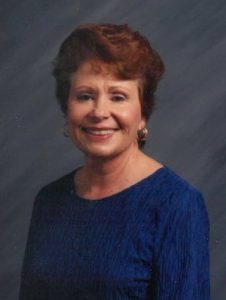 It is with sadness that the family of JoAnn Bessire announces her passing at her 26 year residence in Bayou Vista on February 7, 2018 just ten days following her 83rd birthday.
The family would like to give a special thanks to Nellie Palmer for the care of JoAnn during her illness.
She is preceded in death by the father of her children Doyle, son Dennis, and Aunt Jimmie Copeland, her shining star who guided her thru life.
She is survived by daughter Rene (Roger), son Johnny (Teresa), daughter-in-law Nora, and grandchildren Denise and Denny (Jen).
She was as strong as the elephants that lined her shelves and as beautiful as the butterflies on her walls.
A Memorial Service will be at 11:00am on Friday, February 16, 2018 at Crowder Funeral Home in La Marque.