Joan Kathleen Cotterell (née Beager)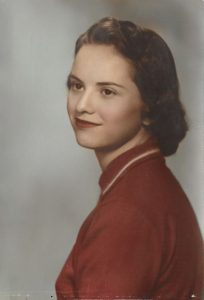 Joan Kathleen Cotterell (née Beager), 81, of League City, TX, peacefully passed away on August 27, 2022 surrounded by loved ones after a difficult battle with heart disease.
Joan was born on February 8, 1941 to Jay and Racheal Beager in Twin Falls, Idaho. In 1958, she met the love of her life Jack at Beaverhead County HS. They were married July 27, 1958. Joan and Jack went on to have three children. Joan was a dedicated mother and wife in her children's early years. She attended college when her children were in high school and began a long career at Clear Lake Regional Medical Center as a Registered Nurse, where she worked from 1978-2002. After retirement, she volunteered for 10+ years at the non-profit organization Devereux Advanced Behavioral Health as one of their librarians and enjoyed travelling the country with Jack and their RV club, The Roving Gypsies.
As a two-time survivor of inflammatory breast cancer, Joan was a staunch advocate for breast cancer and lymphedema research and treatment and was active in support groups for these issues. She also advocated for Autism awareness.
Joan was a lover of music, an avid dancer, enjoyed needlework and sewing and was involved in the mini-Schnauzer rescue organization in Houston in support of her favorite dog breed. She was passionate about genealogical research of her family throughout her lifetime and made connections all over the country and the world through her research efforts.
She enjoyed her grandkids and great-grand kids especially. She always called them the light of her life. She is survived by her husband Jack Raymond Cotterell, sister Bonnie Howard, 3 children Laurie Rae, Jack Vernon (JV) and Anthony Edward (Tony), 7 grandchildren Sean, Kate, Rebecca, Sarah, Catherine, Jack and Tyler and 3 great-grandchildren Casen, Coda and Olivia. Services will be held at Crowder Funeral Home on 517 in Dickinson, August 31 at 10:30 AM. In lieu of flowers, please consider donating to the causes that were important to Joan:
Inflammatory Breast Cancer: Inflammatory Breast Cancer International Consortium – www.ibcic.org/donate
Lymphedema: Lymphatic Education & Research Network – www.lymphaticnetwork.org/get-involved/donate
Miniature Schnauzers: Miniature Schnauzer Rescue of Houston  –  www.msrh.org/donate
The services will livestreamed at the following link: https://view.oneroomstreaming.com/authorise.php?k=1661814304205109