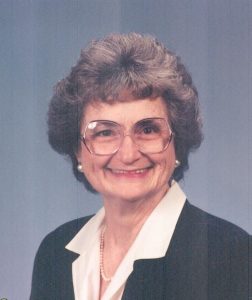 Joan F. McNeely, age 82, departed this life peacefully to be with our Lord on March 10, 2017 in Houston, Texas. Joan was born on January 5, 1935 in Kellerville, Texas to Delia and Fred Sprague.
Joanie, as she was most often called, earned her RN nursing degree from the Hillcrest Medical Center in Tulsa, Oklahoma in 1958. There she met her future husband in 1959.  She worked there for a few years before moving with the family to Titusville, Florida.  The third and final addition to the family was born very soon after arriving to Clear Lake City with her husband in 1968.  Joanie was a stay-at-home mom while the girls were growing up. During that time, she volunteered and was active with the church's MDO, UMW and clown out-reach program that brought many smiles to many hospital bound children.
Soon it was time to do what she loved. Joan took the required refresher courses for registration in Texas and quickly found work at the local hospital in the newborn and NICU unit.  It was her calling which she loved dearly.  She worked there for some 22 years.  Joanie was known to have a good sense of humor and was fun to work with no matter what the circumstances were.  She touched the lives of many in that capacity and had a very successful and satisfying career as a nurse.
Vacation for Joanie was traveling with her husband by motorcycle to various places around the USA.  What a pleasure for them both.  After retirement, Joan continued to volunteer with the same hospital unit to the delight of the continuing staff until her health would no longer permit.  Her strength of character was exhibited by never complaining about the very wide ranging and debilitating effects of Parkinson's disease.
Her daughters and husband were always amazed at the number of mothers whose babies that Joan cared for who would recognized her during her outings after retirement. Joanie was a humble, compassionate and caring person who will be missed by many.
Joan is survived by her husband, Maurice McNeely, daughters Nancy L. Cook, Carol Ann Neill and Joyce M. Kreitzer, her sister Jacqueline King, and granddaughter Joanna Arnold along with many relatives and friends.
A memorial service will be held 11:00am, Thursday, March 23, at the Clear Lake Methodist, 16055 El Camino Real. In lieu of flowers those wishing to make a memorial donation in Joan's name may do so to: The Michael J. Fox Parkinson's Foundation, P.O. Box 5014, Hagerstown, MD, or locally to the Houston Area Parkinson's Society 2700 Southwest Freeway, Suite 296, Houston, TX 77098