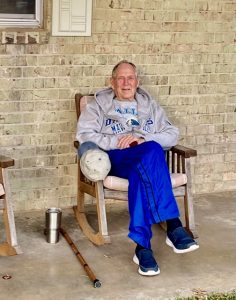 Jimmie Ray Vernon, 87, a life-long resident, and farmer/rancher, of Spearman, Tx., and a recent resident of Friendswood, TX, reached his heavenly home on October 8, 2023.
Jimmie was born January 13, 1936, in Spearman, TX. to Hughlin (Jake) and Mary Ellen Vernon.
While attending TCU he met and later married the love of his life, Kay Elizabeth Thomas Vernon on August 23, 1957.
He reunites with his wife, Kay Elizabeth Thomas Vernon, of 59 years, and his parents Hughlin (Jake) and Mary Ellen Vernon.
Jimmie is survived by his sister Mary Francis Fewell and husband Bernard, son Jim and wife Kelly, son Lynn and wife Sandra, and daughter Shari and husband Kevin Skaggs. His family also includes many grandchildren and great-grandchildren who always made him very proud and brought him lots of joy. His grandchildren include Kristin and wife Holly Bartlett, Ryan and wife Megan, Courtney and husband Shane Skiles, Seth Jones, Amanda and husband Tony Munoz, Blake Skaggs, and Hailey Skaggs. The great-grandchildren include Logan Skiles, Olivia Bartlett, Liam Skiles, twins Connor and Avery Vernon, and Hayden Bartlett.
The family will plan a private memorial service and celebration of life at a later date.  Instead of flowers, please consider memorials in memory of Jimmie to Hansford Hospice (720 S. Roland in Spearman) or contributions to your favorite charity.
You can honor Jimmie by always remembering to:
Appreciate the Earth and what it provides
Wonder and Dream of the Infinite Universes
Never stop learning and make friends wherever you go!
From his children: 
If you knew Dad, then you know he loved…
The TCU Horned Frogs and his beautiful, talented wife who he was lucky to meet there
Piloting airplanes and his years in ROTC
A good fishing hole, a successful crop, and an early morning sunrise on his family's farm land
Serving on the Hansford Hospital Board and his beloved First Christian Church Family
NASA and all things related to space including the discussion of the unknown
Watching basketball and cheering on The Dallas Mavericks
The beauty of all animals and the ability to care for them
Playing the piano, singing in the church choir, Celtic music, and whistling or humming a tune anytime and anywhere
Kay's delicious meals that were always seasoned just right
Mowing the yard in goofy shorts and tall basketball socks
Listening to the High School Marching Band practice and offering encouragement from his front row view
Front porch sittin and visiting with every single person he met to let them know how amazing his kids and grandkids were.
If you knew Dad, then you were Truly Blessed!