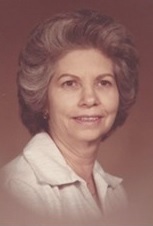 Jimmie Mae Ketchey, 84, of Seabrook, TX, went home to be with her Lord on the morning of August, 17, 2016, following a lengthy illness. Born December 19, 1931, in Centerview, TX, Jimmie called Seabrook, TX home, but Centerville, TX was always her home away from home.
Preceded in death by her parents, Frank Speech Manning and Lela Mae Manning, her husband of 53 years, Jerry Russell Ketchey, her son, Jerry Eugene Ketchey, her son-in-law, Burton Girouard, and grandson, Dustin Olin.
She is survived by her three daughters, Janice Elaine Ketchey, Jimmie Darlene Girouard, and Joyce LaVonne Sellari; son-in-law Ben Sellari and daughter in-law Linda Ketchey; 8 grandchildren, Sharon Coe (Steve), Brandy Collins (Danny), Sherrie Willoughby (Matt), Jason Olin (Katrina), Amy Wright (Adam), Cortney Kirbie (Morgan), Rachel Renee Sellari, and Holly Danielle Sellari; 9 great grandchildren, Kayla McClain, Austin McClain, Sean McClain, Brent Willoughby, Madison Collins, Drew Collins, Kyle Olin, Jake Olin and Emily Wright and a host of extended family and friends.
Jimmie always loved time with her family and friends, especially holiday meals. Her past times were her plants, flowers, and fishing. She was a long time member of Texas Avenue Baptist Church, League City, Texas and enjoyed worshipping her Lord and Savior along with her daily bible devotional time.
Jimmie Mae Ketchey will be deeply missed by those who loved her, but they also have the promise of seeing her again in heaven. A Celebration of Life will be Saturday, August 20, 2016, at the Crowder Funeral Home in Webster, TX. Visitation will be at 10:00 A.M. followed by services at 11:00 A.M. Interment will follow at 4:00 P.M., at the New Salem Cemetery, Centerville, TX.
2 Corinthians 4:16-18
Therefore we do not lose heart. Though outwardly we are wasting away, yet inwardly we are being renewed day by day. For our light and momentary troubles are achieving for us an eternal glory that far outweighs them all. So we fix our eyes not on what is seen, but on what is unseen, since what is seen is temporary, but what is unseen is eternal.
Hebrew 11:1
Now faith is confidence in what we hope for and assurance about what we do not see.
John 14: 1-3
"Do not let your hearts be troubled. Trust in God; trust also in me. In my Father's house are many rooms; if it were not so, I would have told you. I am going there to prepare a place for you. And if I go and prepare a place for you, I will come back and take you to be with me that you also may be where I am."
The family of Jimmie Ketchey would like to offer a special Thank You to the employees of Baywind Village and to those from Harbour Hospice that helped care for our mother.