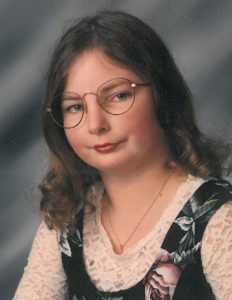 Jessica Marie DeMont passed away October 5, 2021 at the age of 44 following a 39 year battle with brain cancer.
Jessica was born in Houston, Texas on June 5, 1977. She was blessed with beautiful blue eyes and eyelashes that would be envied by all the girls. As a young child, Jessica was already strong willed and showed a determination to experience everything life would offer.  She was also a giggler whose infectious laugh, engaging smile and twinkling eyes lit up many rooms and the corridors of MD Anderson Hospital.
Jessica's battle with serious medical issues in recent years showed her courage in facing challenges. Despite many obstacles, Jessica continued to enjoy the wonderful experiences her mother strived to provide.  The fishing trip last July sponsored by Kids Unlimited was the last of many memorable outings that enriched her life.
Jessica was the beloved daughter of Jennifer Minter DeMont and Glen Alan DeMont. She is also survived by her brother Glen Alan DeMont Jr.  She was preceded in death by her brother Shannon Glen DeMont who was there to guide Jessica joyously through heavens gates. She is now reunited with her grandparents:  Johnie and James Minter and Elizabeth & Vernon DeMont; her aunt Janice Minter and her cousin Amanda Bujnoch. She will also be dearly missed by her aunts, uncles, cousins and friends.
Jessica's Celebration of Life will be, Friday, October 29, 2021 at 7:00PM, Flatonia United Methodist Church, 403 E. North Main (Hwy 90) Flatonia, TX. Reception following the service at the church.
There will also be another Celebration of Life Saturday, October 30, 2021 at 1:00PM Crowder Funeral Home, 2422 East Broadway Pearland, TX Reception following the service at Kids Unlimited Ranch, 1530 Fruge Rd. Houston,TX
We wish to thank Drs. John Slopis, Steven Waguespack, Madeline Duvic and Huifang Lu of MD Anderson Hospital for their many years of compassionate care.
In lieu of flowers, the family kindly requests donations in Jessica's memory directed to Kids Unlimited, the organization that provides fun experiences for children who are suffering from cancer.
Kids Unlimited Foundation
17531 Tall Maple Ct.,Houston TX 77095,
donations@kidsunlimited.org
Telephone:  Carolyn at 832-671-1916 for credit card donations and questions