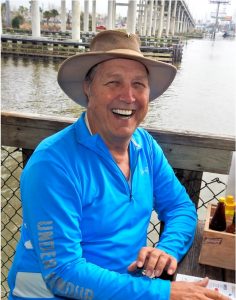 Jerry Wayne Hurlbert (75) passed away on Tuesday, April 20, 2021 in Friendswood, Texas. He was born on March 30, 1946 in New Orleans, Louisiana to Lloyd Hurlbert and Mildred Langenstein. Jerry is survived by his: daughters, Tonya Porter and Nicole Iginiamre; six grandchildren, and numerous friends.  He is preceded in death by his parents and his brothers, Lloyd and Jake.
Jerry served his country in the U.S. Army.  He earned a Bachelors degree from the University of Houston and was employed by Shell Oil Company. He had a passion for kayaking, camping, plumerias, and growing citrus trees.
Visitation will be held from 9 – 10 a.m. on Tuesday, April 27, 2021 at Crowder Funeral Home located at 111 E. Medical Center Blvd., Webster, Texas. The funeral service will start at 10:00 a.m. followed by burial at Danbury Cemetery in Danbury, Texas.
In lieu of flowers those wishing to make a memorial donation in Jerry's memory may do so to the American Cancer Society (cancer.org) or Starfish Kenya (starfishkenya.org).