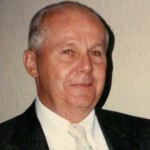 Jens Charles Jensen, Jr., 85, of Texas City passed away on Tuesday, July 22, 2014 in Dickinson, Texas.
He was born October 13, 1928 in Galveston, Texas to Jens Charles Jensen, Sr. and Dora Sattler Jensen. Mr. Jensen was a resident of Texas City, he served in the National Guard for 5 years under Captain Jack Webb, and he retired from Monsanto after 35 years as a Maintenance Foreman, he volunteered at the 1894 Grand Opera House, Edgewater Meals on Wheels, R.S.V.P. at UTMB and Moody Gardens.
He was a member of The Dance Club and Friends of Moody Gardens.
He is preceded in death by his parents and his first wife Barbara Ann Jensen. Survivors are his wife Dolores Jensen; two daughters and sons-in-law, Strelsa and Lee Hasselmier and Dorene and Arch Hester, step-daughter Mildred "Mikki" Abshier; son and daughter-in-law Jens Jensen III and Lisa; grandchildren Lee Hasselmier, Key Hasselmier, Jens Jensen, IV and Justin Jensen, great grandchildren; Adam Hasselmier, Luke Hasselmier, Sara Hasselmier, and Soren Hasselmier; step grandchildren Brandy Walker and Brent Walker.
Visitation will be Thursday, July 24, 2014 from 5:00pm – 7:00pm at the James Crowder Funeral Home in La Marque. A graveside service will be at 10:00am on Friday, July 25, 2014 at Galveston Memorial Park in Hitchcock, Texas with Father Chacko Puthumayil officiating.