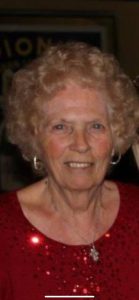 Jennie Mae Rossacci, 91, of Dickinson, passed away March 25, 2023, in her home surrounded by her loved ones. Jennie was born August 31, 1931 in Galveston, Texas to parents, Maurice Giamalva and Lena Commiato Giamalva. She graduated from Dickinson High School in 1950 and was a member of the First Assembly of God Church for many years.
Jennie was a loving wife, mother, grandmother, and great-grandmother.
She is preceded in death by her parents; husband, Antonio A. Rossacci; son-in-law, Kelley Barkmann; sisters, Anna Marie Barbaria, and Rosalie Palermo and brother, Louis Giamalva.
She leaves behind to cherish her memory her daughter Cindy Barkmann; sons David A. Rossacci and wife Kathy, and Michael A. Rossacci; grandchildren, Chris Barkmann and wife, Amy, Brad Rossacci and wife, Skyler, Elizabeth Barkmann and fiancé, Ambrose Vargas, and Lisa Radicioni and husband, Wade, and great-grandchildren, Hadley and Garrett Radicioni, and Olivia Vargas, as well as many other family and friends.
In her honor, there will be a visitation on Wednesday, March 29, 2023 from 5:00pm to 7:00pm with Funeral Services Thursday, March 30, 2023 at 10:00 am, Crowder Funeral Home in Dickinson, Texas. Interment will follow at Mt. Olivet Catholic Cemetery.
Honored to serve as pallbearers are Chris Barkmann, Brad Rossacci, Wade Radicioni, Ambrose Vargas, Bobby Sam Palermo and J.L. Giamalva. Honorary pallbearer Logan Ramirez.