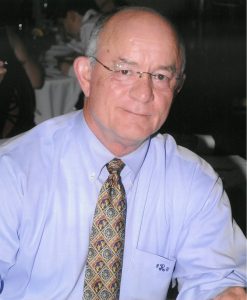 Dickinson – Jeffrey "Jeff" Rauth, age 63, passed away Sunday, August 6th. The third eldest of eight, Jeff was born November 3rd, 1953 in Fort Meyers, Florida to Joyce and David Rauth. He grew up in a military family. He graduated from North Georgia College and commissioned a second lieutenant in the U.S. Army. He entered the Army Reserves reaching the rank of Major after leaving active duty. He worked for many years for Texas Tech University and Texas Tech Health Sciences Center, before discovering what he felt was his most fulfilling career – an 8th grade U.S. History Teacher and Middle School Football Coach for Dickinson ISD. Though retired, he was always happy to hear, "Hey Coach" from long graduated students.
Jeff is survived by his loving wife, Ginny, and four children: daughter, Erin Goddard; son, Daniel Rauth; daughter, Jessica Moore & husband Mace; and daughter, Casey Rauth; as well as his four grandchildren: Charlotte, David, and Suzanne Goddard and Eleanor Moore.
His vigil will be Thursday, August 10 at 7 PM with visitation from 6 – 8 PM, at Crowder's Funeral Home in Dickinson, Texas. His memorial mass will be Friday, August 11th at 1 PM at Saint Mary Catholic Church in League City, TX.
In lieu of flowers, contributions can be made in his name to the Wounded Warriors Project, his favorite charity.