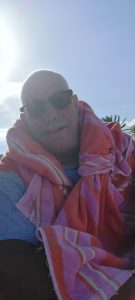 Jeffery Dale McClain, 59, of Bacliff, Texas, passed away September 7, 2022 in Missouri. Jeffery was born February 26, 1963 to Samuel and Charlotte McClain in Odessa, Texas.  Jeffrey worked as a truck driver for USA DeBusk for many years. He will be remembered as a loving devoted husband, father, grandfather, and friend.
Jeffery was preceded in death by his parents and a brother Danny Ray McClain.
He leaves behind to cherish his memory his dream girl and soulmate of 17 years, Phyllis Dearing McClain; canine daughter Lil' Mama; daughters Christina McClain, and Katherine Everett; step-daughters Christina (Cory) Elliott, and Kaylee (Sammye) Dyson; son Cody (Mary) McClain; step-son Steven (Maci) Tobert; sisters Joanna McClain and Pam Wharton; 16 grandchildren; best friends Jay Thatcher, George William, and James Autrey; and friends and family at USA DeBerk.
The family will be receiving friends 1:00 – 4:00 pm, Saturday, September 24, 2022 with a celebration of life at 2:00 pm, at Crowder Funeral Home Chapel, Dickinson, Texas.