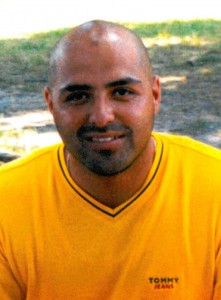 Our family sincerely thank you for your prayers, love, support and kind expressions of sympathy conveyed to us at the loss of our much beloved brother, Javier Martinez.
Javier, 46 was born in Houston, Texas on September 1, 1969 and passed away, April 22, 2016 where he lived until his passing.
Javier is survived by his parents Cesario C. and Angelita M. Martinez, his five siblings: Yolanda Luna (Andres), Esther Rojas (Robert), Cesario Martinez Jr. (Yvette), Rodolfo "Rudy" Martinez and Angelica Trevino (Gilbert); eight nieces and nephews Randolph Luna (Pamela), Samantha Luna, Matthew Martinez (Roshonda), Mitchell Martinez, Miller Martinez, Amanda Trevino, Gabriela Trevino and Elias Rojas, as well as seven great nieces and nephews.
Javier is preceded in death by his brother, Jesus Martinez and his grandparents, Jose G. and Concepcion R. Martinez and Candelario and Francisca S. Mancilla.
A visitation will be held Monday, April 25, 2016 from 5-8 pm with a rosary to begin at 6pm at Crowder Funeral Home in Pearland. Funeral Service will be held in the chapel of Crowder Funeral Home on Tuesday, April 26, 2016 at 10am.