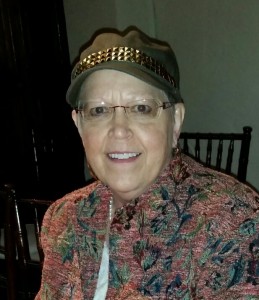 Celebration of Life, 7 pm, Wednesday, December 3, 2014, Crowder Funeral Home, Webster.  In lieu of flowers, the family requests donations to Angel Flight at www.angelflight.com.
JANET FAYE OLSON
June 16, 1955 – November 29, 2014
Intelligence, integrity, generosity, love of life, strength, courage, vitality, compassion, energy and faith.  Dilemma?  She will figure out a solution and make it happen.  Need help crossing a bridge?  She will walk beside you and get you across safely.   Crisis?  She will calm you, and then resolve it.  She will keep in contact to make sure all is good.  Heartache?  She will be your shoulder, cry with you, and walk beside you until she knows you are okay.   Need to vent?  She will never judge or criticize.  She will listen, but is always honest with any knowledge she could share.   You may think we are describing Mother Theresa …  Close, but no, her name is Janet and she is our sister, our friend, an aunt, a Godmother, and the most beautiful person… both inside and out.  She fought her disease, with bravery and the most amazing courage you will ever see.  In our eyes she is a survivor.  Janet's earthly journey is over, but her well deserved everlasting life has begun.  The highest honor achievable.  She has touched the life of every person she met.  She loved life and lived it to the fullest.  Janet thrived and radiated when she was able to help others.  It was always about someone else – who she could help, guide, encourage.  Never about herself.  Janet had many loves in her life, friends, family, traveling, experiencing new foods and places.  Her intelligence took her far in life, her love for people took her farther and her faith took her home.  Janet, from all your family and friends … you will be greatly missed and forever loved.  Thank you for being a part of our lives.