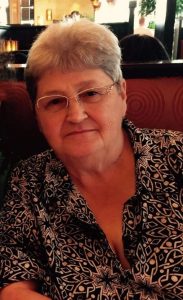 Janet Louise Yackly, 61, of Texas City, passed away Wednesday, January 18, 2017 surrounded by her family.  She was born October 28, 1955 to Bill and Louise Wheatley of Texas City.
Janet spent her childhood making memories with her cousins, who became her life-long friends.  Janet was a longtime resident of Texas City and was the co-owner of Grand Prize Barbeque in Texas City for 27 years.  She spent many years pouring into the community of Texas City through their business, her children's schools, various sports organizations and volunteer groups. Of her many accomplishments, Janet was most proud of being a truly "hands on" mom.  She never missed a baseball, soccer, or volleyball game.  She was the den mom for Cub Scouts and she worked with her grandchildren at dance recitals.  She created a home where her children always felt comfortable bringing their friends.   As wonderful as she was at being a mom, Janet literally shined when she became a grandparent!  Her "babies" were her whole world and she loved them fiercely.  "Nanie" never missed a dance recital, soccer game, school program, school carnival, gymnastics show-off, or piano recital.  There was never a single day that mentioning her grandchildren did not bring a smile to Janet's face.
Having a big heart Janet loved working with Sr. citizens, with her husband and daughter, cofounded the SeniorShare Program, of Galveston County.
Janet is preceded in death by her parents Bill and Louise Wheatley, her mother-in-law Josephine Yackly.  She is survived by her husband Kevin Yackly, father-in-law Ronald Yackly and his wife Jean, as well as her three children; Jason Hall and his wife Kimberly, Gregory Hall and his fiancée Laura, and Jenna Yackly and Andrew Gutierrez.  Janet is also survived byher siblings Debbie Winkler and her husband Bill, and Mike Wheatley and his wife Linda.  Janet was the beloved "Nanie" to six grandchildren: Payton Marie Gutierrez, Kinsley Grace Gutierrez,  Julianne Grace Hall, Hunter Logan Hall, Angelena Jordan Martinez and Stormie Allison Renevey.  Janet is also survived by numerous nieces, nephews and cousins that she loved dearly.
Visitation will be held on Sunday, January 22, 2017 from 4:30pm – 7:30pm at the James Crowder Funeral Home in La Marque.  A Funeral Service will be on Monday, January 23, 2017 at 11:00am at The Fellowship Church, at 2222 Hwy 146, Texas City.  Pastors Kevin Herrin and John Robert Wheatley will be officiating.  Burial will follow at Galveston Memorial Park in Hitchcock, Texas.
The family asks, that in lieu of flowers, a donation be made in Janet's name to one of the following charities: SeniorShare  Program of Galveston County Inc., or the Texas City Citizens Police Academy Alumni Association.
Pallbearers will be Mike Wheatley, Gregory Hall, Andrew Gutierrez, Bret Moreau, Sean Casey, Martyn Yackly, and Earl Linder.