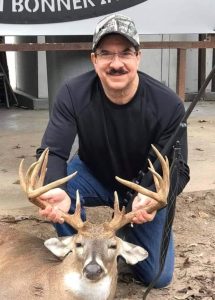 James Lee Urick, 62, passed away July 29, 2023 at his Friendswood home. James was born October 31, 1960, in Houston, Texas to parents, Cleatus and Mary Jane Urick.
James was a graduate of Mount Carmel High School and the University of Houston, where he majored in business. He worked hard and proudly in sales for Koch Specialty Plant Services for 22 years. James had many hobbies such as deer hunting with his father and son, collecting shark teeth and shells at Jamaica Beach, and going to sports events and cookouts with his work colleagues. James enjoyed bringing his kids together and watching his family grow. He was a dedicated son and father who always provided comfort and stability.
He is preceded in death by his sister, Alice Shepherd.
James will be forever missed and remembered by his parents, Cleatus and Mary Jane Urick; daughters, Rachael Collins and Lauren Urick; son, Austin Urick; daughter in law, Stephanie Urick; son in law, Kanton Collins; sister, Peggy Brock; grandchildren, Ellie and Tommye Collins; and many other family, friends, and coworkers.
A visitation is planned for Saturday, August 12, 2023 from 1:00pm to 4:00pm at Crowder Funeral Home in Dickinson, Texas.