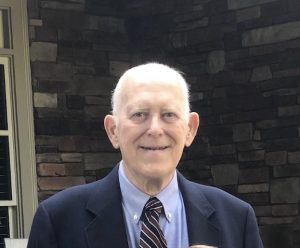 James Richard Tarbutton
February 28, 1943 Baltimore, Maryland
August 28, 2022 , Houston, Texas
James Tarbutton passed away peacefully on Sunday, August 28, 2022; surrounded by his loving wife of 47 years, Cynthia and his three beloved children, Robin, John & Leigh.
James was an Air Force Veteran and dedicated employee of various companies that service and manufacture parts for power plants throughout the United States and territories.  His career travel included adventures to California, Puerto Rico and Key Largo, all stories of legends.
He was an intellect at heart and a reader from birth; owning an extensive personal library.  His greatest joy in life was his time at home.  James was a devoted family man; no matter the hour, no matter what.  A son of Baltimore, South Bawlmer to be exact, he joined the Air Force at the age of 17, worked around Baltimore after leaving the Air Force, eventually joining Diebold, installing bank vaults.  From there he started two companies, worked for various others until his retirement in 2018.  James moved his family three times, Virginia Beach, VA, Williamsport, Pennsylvania, and Houston, Texas, where he eventually retired.  Almost Florida and you can't shovel sunshine, he would remind us all.  He imparted wisdom, laughter and happiness on anyone who would listen.  He could light up a room.
James was preceded in death by mother, Jeanette Tarbutton and father, John Tarbutton; sister, Louise Bartels (Dutch Bartels), niece, Joyce Mack, & great niece, Loran Moreau.
Survived by his adoring and faithful wife Cynthia Ann, three devoted children; Robin Elizabeth (William Woodward), John Eaton (Leslie Shinnick), and Leigh Ann (Joseph Dickerson). Blessed with five grandchildren; James Richard, Wesly Brian, Henry David, Sophie Claire and Margaret Suzanne, Niece, Linda (Edwin Moreau), Great niece, Jennifer (Bill Prestianni), and Great-great niece, Haley Moreau.
A private family memorial service was held in December 2022 in Tampa, Florida.  A blessing and interment of ashes will be held on Saturday, July 29, 2023 at 4:30pm.  James will be laid to rest at Star of the Sea Catholic Church.  The family is attending the general mass at 5pm.
In lieu of flowers please consider donating a book. We will be donating to Star of the Sea Catholic School Library, Virginia Beach, VA.  Books and reading were the foundation of James' life.
Please use this link: https://www.amazon.com/hz/wishlist/dl/invite/9qnfwqc?ref=cm_sw_em_r_un_un_T8HpOdOFYDW9N
Condolences, memories and photos can be shared at jimmytarbutton@gmail.com
Thank You to Crowder Funeral Home, Pearland, Texas, for all of their assistance and support.