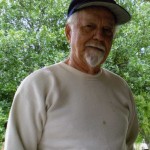 James Noel Deckard, Sr. (Buddy) passed away Sunday, November 2, 2014 surrounded by his loving family.
Buddy was born in Memphis, Tennessee to Ferdinand and Montie Deckard. Buddy served in the United States Navy on the ship Kuratuk. He went on to establish Galveston Auto Sales for 24 years. He retired in 2000 and moved to Texas City where he resided until his passing. Buddy loved boating, flying planes, reading, a cold beer and a good cigar. He meant so much to his family and will be deeply missed.
He is preceded in death by his parents and a brother George Deckard.
He is survived by his loving wife of forty years, Tencha Deckard, sons James Noel, Jr. (Janet) and Robert (Bobby) Sherman (Nance); special niece, Kelly Renae Garcia, whom he helped raise; five grandchildren, Wendy, Jolie, Dana, Ginger and Daniel; and five great grandchildren.
A private memorial service will be held at a later date.