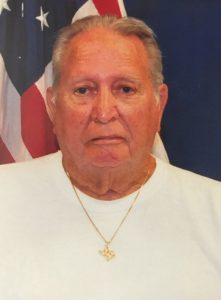 James McAllen Burd (89), of La Marque, Texas, passed away on Wednesday, April 12, 2017. He was born in Henderson, Texas on February 1, 1928 to Oma Vera Welch Burd and Glen B. Burd.  James proudly served in the United States Navy and was Honorably Discharged in 1947.
He is preceded in death by his mother and father, his loving wife Geneva Burd, and daughter in-law Angie Burd and son Robert C. Burd.  James is survived by his daughter Vicky Riggs; six sons: Gerald Burd and wife Linda, Michael Burd, Tommy Burd, Daniel Burd and wife Susan, Joseph Nichols and wife Vicki, and Donnie Burd and wife Kathy; and numerous grandchildren, great-grandchildren and great-great grandchildren.
Visitation will be held at the James Crowder Funeral Home in La Marque on Tuesday, April 18, 2017 from 5:00pm to 8:00pm. A funeral service will begin at 10:00am on Wednesday, April 19, 2017 at the James Crowder Funeral Home with Pastor James Benson officiating; interment to follow at Forest Park East Cemetery in Webster, Texas.