James (Jim) Patrick McEnery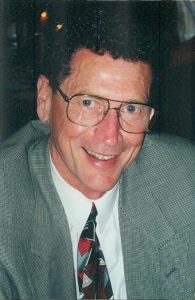 James (Jim) Patrick McEnery was born on Easter morning, March 24, 1940, in Pittsburgh, PA. to Julia Walsh McEnery and Patrick McEnery. Jim lived his life with passion and zest. He often said that he had never been bored a moment in his life. Even though he had experienced health problems for many years, his passing came unexpectedly, but peacefully on Wednesday, June 28, 2017. Jim was preceded in death by both of his parents, as well as his beloved first wife, Pamela (Pam) McEnery, with whom he had four children.
Jim leaves to mourn his passing his loving wife of 22 years, Gale McEnery, and five children: Scott McEnery; Kristine McEnery; Maureen Shipley and husband Tony; Michael McEnery and wife Rachel; and Rich Edwards and wife Lia Edwards. He also leaves behind fourteen grandchildren, in whom he delighted: Lauren Munselle, Christina Munselle, Sean McEnery, Mackenzie Brown, Mason Brown, Jacob Carr, Ben Shipley, Christina Hulka-McEnery, Anna McEnery, Sophia McEnery, Luke McEnery, Jack McEnery, Alex Edwards, and Zach Edwards. Jim is also survived by his sister, Anna Marie Schaefer, and his brother, John McEnery and his wife, Lin, as well as several nieces and nephews.
Professionally, Jim had a very successful career as a structural engineer. But in other aspects of his life, Jim was somewhat of a renaissance man. As a young husband and father, he loved taking his family on camping and fishing trips. His "kids" still argue over who won the last fishing trophy. Even though he worked long hours, Jim was very involved in his children's activities when they were growing up. He could be seen holding the flag along the sidelines in a Little League football game, or marking off the bases on a baseball diamond. Jim was a member of a local running club for many years, and ran in several marathons. He loved hiking and taking long walks. Jim loved being a spectator of sports of all kinds, especially football. Even though he had been a life-long Steelers' fan, Jim became a Houston Texans' supporter and season ticket holder. He loved to read, and in the last few years of his life, he became a voracious reader, reading one book after another on his Kindle. Jim loved reading cooking magazines, and he was a fantastic cook. His favorite holiday was St. Patrick's Day, which was always celebrated with his famous corned beef and cabbage and Irish soda bread. He was a devout Catholic. One of the last books he read was about Mother Teresa's life.
Although the picture of health for most of his life, Jim experienced numerous health problems in his last years. Throughout it all, he maintained his bright smile, sense of humor, and positive attitude. He would often say "I'm the luckiest man in the world." But, in truth, those who were fortunate to know Jim, love him, and be loved by him were the most fortunate of all.
There will be a viewing on Sunday evening, July 2nd, from 6:00 to 7:00 p.m. at Crowder Funeral Home, 111 E. Medical Center Blvd., Webster, TX, followed by a vigil and rosary. Funeral services will be Monday at 10:30 a.m. at St. Clare of Assisi Catholic Church, 3131 El Dorado Blvd., Houston, TX. After a luncheon at the church, burial will follow at Forest Park Cemetery. In lieu of flowers, donations may be made to the American Lung Association in Jim's memory.