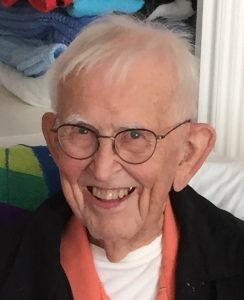 James (Jim) Lee Gibbons, 86, entered his eternal home to be with the Lord on December 25, 2016. He was born in Grand Island, Nebraska on August 19, 1930 and spent his childhood living in various cities in Tennessee.  He graduated from Clarksville High School in 1948 and attended Austin Peay State University in Clarksville, Tennessee where he met Nancy Carolyn Dowlen in 1950.  When his family moved to Florida, Jim transferred to the University of Florida and graduated in 1952 with a B.S. in Business Administration.  After graduation, rather than being drafted by the Army he joined the Navy.  He went to boot camp in San Diego, California because he did not weigh enough to attend Officer Candidate School (OCS).  After boot camp he was assigned to Naval Station Bremerton near Seattle, Washington.  His next stop was OCS in Rhode Island and upon completion he married Nancy on July 15, 1953.  Immediately afterwards, they drove to New York where he went to Navy Supply Corps School in Bayone, New Jersey for six months.  He was assigned to Naval Air Station Green Cove Springs in Florida where he finished his active duty commitment and retired from Naval Reserve as Lieutenant Commander in 1972.  He joined AT&T on August 1, 1956 as an accountant in Knoxville, Tennessee.  They moved to Shreveport, Louisiana in 1962 before being transferred to Jackson, Mississippi in 1965.  They lived there until he retired after 32 years of service from South Central Bell as Disbursements Accounting Manager in March 1989.  In December 1993, he and Nancy moved to Houston to live closer to Susan and her family.
He dearly loved his family and enjoyed watching his grandchildren grow up. He went to all of their many activities throughout the years: choir and band concerts, dance recitals, soccer and baseball games, and tennis matches.  He was thrilled to become a great-grandfather to twin great-grandsons last year.
He was a life-long member of the Methodist Church. He was a faithful servant serving on committees, singing in the choir, and playing trumpet in the orchestra.
His hobbies included working in the yard, playing trumpet, singing, jogging and playing tennis. He was able to continue singing but had to give up his other hobbies a few years ago.
He is survived by his beloved wife of 63 years, Nancy Dowlen Gibbons; daughter and husband, Susan and Dave Voss; granddaughter and husband, Jennifer and Bradford Wilson; grandson, Robert Voss; and great-grandsons, Cole and Miles, all of Houston, Texas; sister, Colleen Gibbons Myrick of Roswell, Georgia; and numerous nieces and nephews.
A service to celebrate his life was held on January 5, 2017 at Clear Lake United Methodist Church.  Memorials can be sent to Clear Lake United Methodist Church Building Fund, 16335 El Camino Real, Houston, TX 77062.