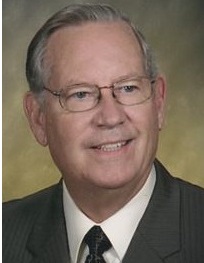 James P. Harris III passed away peacefully on April 5, 2023 in Houston, TX. J.P. was born on March 26, 1932 to James P. Harris, Jr. and Alice Slaughter Harris in Tuleta (Bee County), TX. The family moved to Beeville in 1936, where he graduated from A.C. Jones High School in 1949, having served as Sr. Class President. He attended Tarleton State Jr. College in Stephenville, TX for two years. He received a BBA and U.S. Army ROTC Commission from Texas A&M College in 1954.
J.P. entered military service in June 1955 as a second lieutenant in the Army Ordnance Corps at Aberdeen Proving Grounds, MD. and was then assigned to the Army Missile Command in Huntsville, AL as a Procurement & Production Officer. He remained there as a civilian employee until 1962. In March 1962, J.P. joined the NASA Manned Spacecraft Center (currently Johnson Space Center) in Houston, TX as a Procurement Analyst. He advanced through a number of positions during his career, retiring in January, 1994 as Deputy Director of Procurement.
Besides his parents, J.P. is predeceased by his high-school sweetheart/first wife Dorthy Estelle Hamm Harris and sister Hazel Taylor. Surviving to cherish his memory are: current wife, Nila Faye Garner Harris; son, Ron Harris (Judy), daughter, Cindy Offermann (Doug), daughter, Janet Kloves (Paul); ten grandchildren, fourteen great-grandchildren, and one great-great grandchild; and several nieces and nephews.
In lieu of the customary remembrances, and for those desiring, the family requests with gratitude that memorial contributions in his name be directed to the First Baptist Church – Pasadena, 7500 Fairmont Pkwy, Pasadena, TX 77505.
Please visit J.P.'s online memorial tribute where fond memories and words of comfort may be shared with his family.
On Friday, April 14, 2023 from 6:00 pm to 8:00 pm J.P.'s family will greet guests at Crowder Funeral Home, Webster, TX. The Funeral Service will follow on Saturday, April 15, 2023 at 10:00 am at Clear Lake Baptist Church, 15700 Space Center Blvd., Houston, TX 77062.