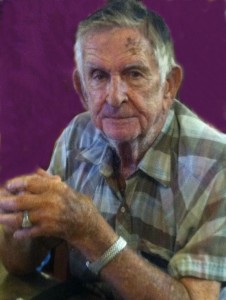 James "J.C." Clark Brown, 87, of Alvin passed away Wednesday, March 11, 2015 at his residence. He was born April 20, 1927 in Barfield, Alabama to William L. and Katie Brown.
J.C. was a veteran serving in the US Army during WWII; he was a carpenter in Local 973/526 for 52 years; a member of I.O.O. F. Lodge in TC for 67 years, he was a member of the R.E.A.C.T.; volunteer for the Galveston County Sheriff Department Marine Division, and a member of the Can Do Search and Rescue.
He is preceded in death by his parents and his wife of 63 years Marilyn Brown.
J.C. is survived by his daughters Peggy Halstead and Debra Hendley (Wayne) and sons David Brown (Betty) and Larry Brown (Diane); thirteen grandchildren, twenty-five great grandchildren and four great-great-grandchildren.
Visitation will be Friday, March 13, 2015 from 5:00pm – 8:00pm at the James Crowder Funeral Home in La Marque. Funeral Service will be at 2:00pm on Saturday, March 14, 2015 at the funeral home. Burial will be at Grace Memorial Park in Hitchcock, Texas with Dr. R.L. Calhoun officiating.