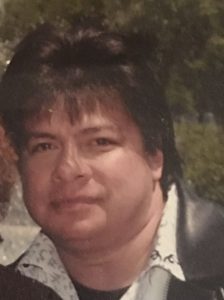 James Garcia Juarez, 52, passed away on Saturday, November 4, 2017 in Texas City, TX.  He was born to Angelita and Joe M. Juarez, Sr. on November 30, 1964 in Galveston, TX.
James is preceded in death by his father Joe M. Juarez, Sr.; brother Joseph Juarez; and sister Benita Juarez.  He is survived by his mother Angelita Steele; stepfather Paul Steele; brother Joe G. Juarez, Jr. (Amber); sister Patricia Juarez Fish (Geoff); four nephews and nieces: Tahni, Evan, Joel, and Abbey; and numerous aunts, uncles, and cousins.
A visitation will be held on Friday, November 10, 2017 starting at 5:00PM with a service to follow at 6:00PM at the Crowder Funeral Home in Dickinson, TX.